My Blog for The Guardian Allotments Page: Save the Cheshunt Allotments!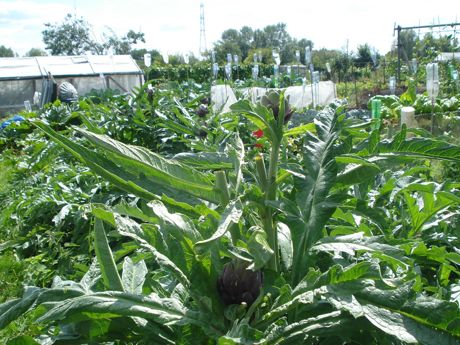 Eddie's and Madeline's artichokes ready to pick
First of all apologies, allotment blog readers, for my sporadic writing on this site. Since I last posted, I have married, had a baby boy and tried to learn the multi-tasking juggling act which is being a modern working woman. Quite how my aunties in rural Turkey managed to have 10 children each, run a house, a farm and keep smiling is a lesson for us all, but I digress…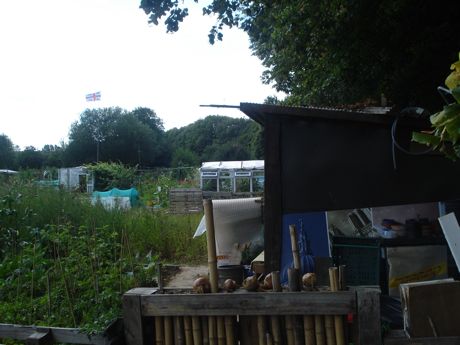 Eddie's shed from timber donated by neighbours runs by the side of the River LeaOn our advice, following their retirement last year, my new in-laws also took over an allotmnent, near their home in Cheshunt, Hertfordshire. For those not familiar with Cheshunt, it is a periphery town on the neck of the M25, a fast-growing bulge of new-builds en-route to Cambridge on the A10. Their plot has been a source of huge rewards: from the epic beetroots they picked this month, to the fresh impetus it has given my father-in-law, Eddie, after working for more than 50 years as a fireman, then as a taxi driver.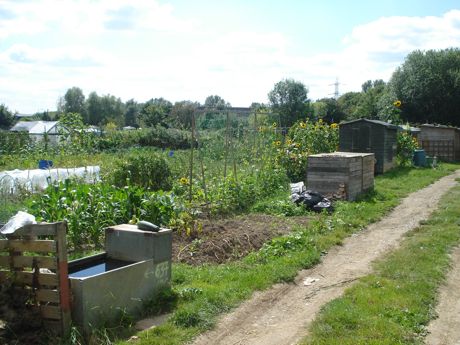 Sunflowers and beans, looking south towards LondonSome of their allotment neighbours are elderly, with plots they have tended for most of their lives. Others, like Eddie and Madeline, are newcomers, turning land left derelict and untended into gold-star plots with rows of produce, ploughing compost, manure, hard work and love into the soil week on week. Eddie even built a shed from scratch using wood gathered from friends, and he was donated a greenhouse by a kindly stranger.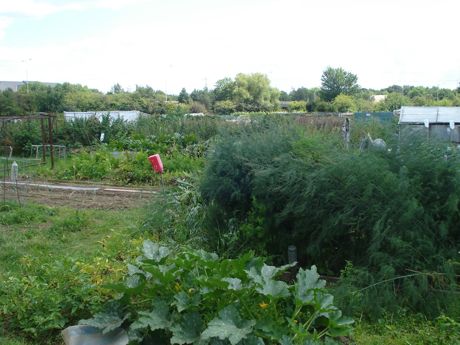 Looking West towards the A10 across ripening squashAs you might expect in a London orbital town, the plot holders are from a huge range of backgrounds and ethnicities, bringing a diversity of techniques and vegetables into the allotments and often sharing their produce: Eddie's neighbour, Suleyman, grows enormous courgettes; while one plot I saw, tended by a pensioner, has a myriad of plants which put my own allotment efforts to shame.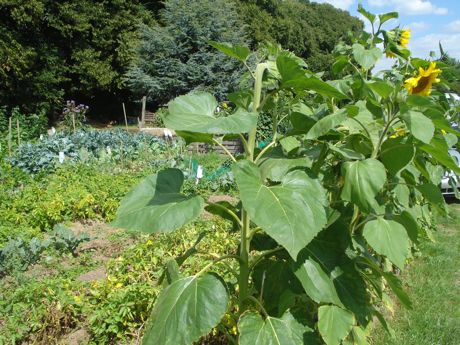 Sunflowers and established trees hide the River LeaBut now this community is under threat by plans to build a multi-complex cinema and move the allotments and the local Travellers site (they've also lived there for generations) to land which was for many years a dumping site with high levels of toxicity, the aptly named 'Hells Wood'.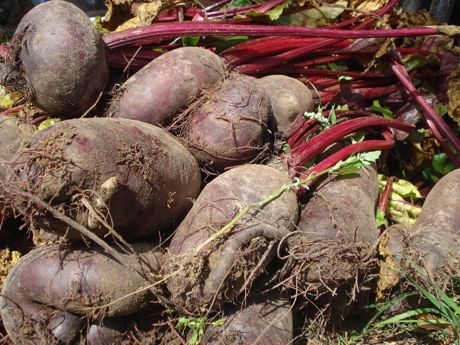 Beetroots harvested last week awaiting a scrub cleanWith so much uncertainty, plot holders don't even know what to grow for next year: does my mother-in law plant the raspberry canes she just bought, or not?
The Cheshunt allotment holders have written to the minister Eric Pickles asking for a rethink. They are yet to hear back. My hope in writing this is that more people protest against this proposed development and allow the plot and the Travellers their peace and their land.
http://www.guardian.co.uk/lifeandstyle/allotment/2011/aug/19/allotments-gardeningadvice